The Yavuz Sultan Selim Bridge is the 3rd bridge built on the Bosphorus Strait in Istanbul, Turkey. The hybrid bridge deck supports two lanes of railroad tracks encased by an 8-lane highway (4 on each side). It is the widest and longest span cable-stayed bridge in the world. It also holds the world records for the longest railway bridge and the suspension bridge with the highest pylons (322 m). As such, this exceptional structure requires very rigorous monitoring, which is carried out by Diades through a complete monitoring cycle spread over several years.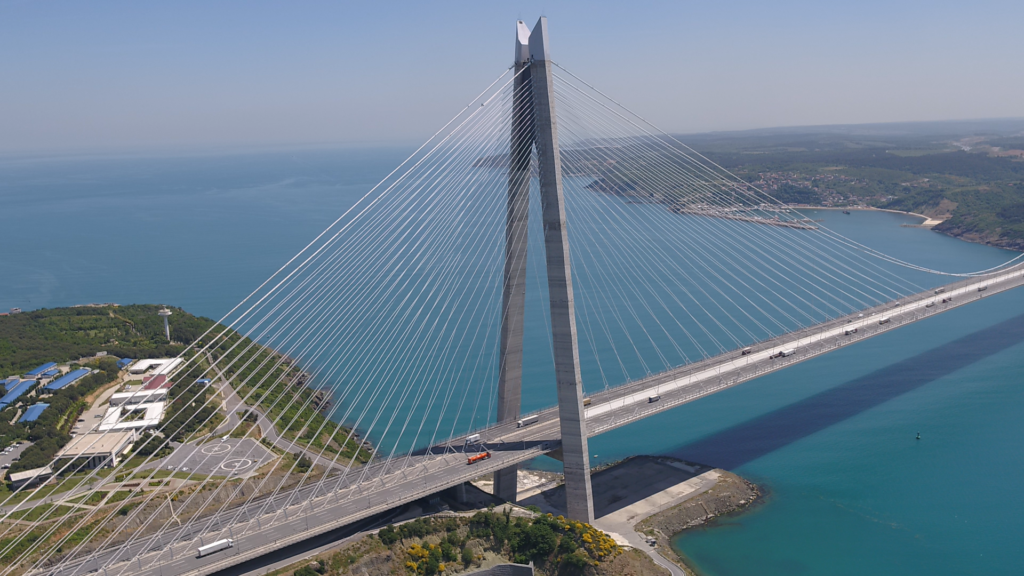 Client & Project Manager

Features
Approach spans : prestressed concrete box girders
Main span : Orthotropic steel slab
Length : 2 164 m
Main span : 1408 m
Height of the pylons : 322 m
Height of the deck : 5,50 m
Width of the deck : 59 m
Number of stiffening cables : 176
Number of hangers : 68
Mission of Diades
Our mission is an intellectual service mission carried out with the framework of the multi-year follow-up of the bridge. It consists in carrying out the initial inspection of the sensitive elements, the annual inspections and the general inspections of the structure. Inspections cover the entire structure, in particular the 68 hangers, the deck bracing, the specific support devices installed in the seismic zone and all the particular devices fitted to this type of hybrid structure. Monthly monitoring of the instrumentation with reporting and behavioural analysis of the structure is also carried out thanks to the data transmitted by the multiple sensors fitted to the structure.