After a piece of cornicing fell from the Jean Jaurès building in June 2011, SCI de la Tannerie wanted to ensure that all the cornices overhanging the Jean Jaurès and Chateaubriand buildings were completely safe. DIADES was tasked with checking the condition of the cornices and securing the areas likely to present an immediate risk to users by removing the unsafe parts.
Client & Project Manager
Features
The task was carried out by closing off localised areas at ground level in front of the parts that were inspected by hammer. A 27-metre capacity type 3B boom lift was used to reach all the cornices.
Building in urban location
Height of cornices between 8 and 15 m
Architectural cornice with several facets on the Jean Jaurès building
Mission of Diades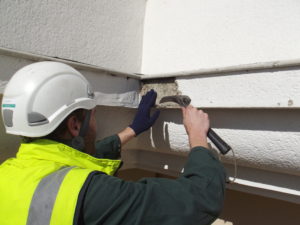 Diades carried out the task of inspecting and securing the premises, which included:
A visual inspection and the auscultation with a hammer of all the upper cornices of the Jean Jaurès and Chateaubriand buildings,
Locating the area showing signs of defects (hollow sounds and assessment of their intensity, formation of flakes, fallen blocks, and so on) and establishing these on mapped surveys,
Removal of unstable parts of the cornices presenting a potential danger to persons in the footprint of the two buildings.